Pages: << Back 1 2 3 4 5 6 7 8 9 10 Next >>

The Gobin administration proved to be a transitional one in many respects. It was the last administration to make a serious effort to enforce the traditional compulsory attendance at daily chapel and Sunday morning church services, though students were still "expected" to attend these functions for some time to come. Hillary Gobin himself was also the last president to make his presence felt in the classroom on a regular basis, continuing to carry on the old-time presidential responsibility for the teaching of philosophy and religion. Most appropriately, upon leaving the presidency in 1903, he returned to teaching as professor of the English Bible as well as vice president of the university, holding both positions until his final retirement in 1922.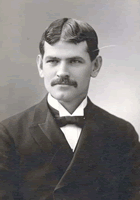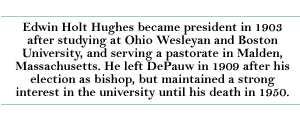 A new breed of Methodist ministers was called to the DePauw presidency in the early 20th century, equally devout but equipped with more advanced theological education than their predecessors. The three who followed Gobin in rather rapid succession were Edwin Holt Hughes (1903-09), Francis J. McConnell (1909-12), and George R. Grose (1912-24), all graduates of the Boston University School of Theology. There they had come under the influence of Professor Borden Parke Bowne, who expounded a Christian philosophy called Personalism, which soon became a powerful school of thought among Methodist academics. This philosophy, which was to have an especially long-lasting influence at DePauw, stressed the unique worth of the human personality and the working of the "divine will" in all of life.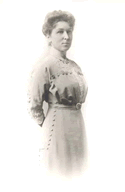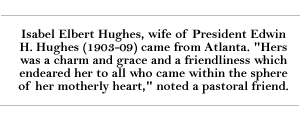 With presidents now out of the classroom for the most part, the person responsible for introducing this point of view into the curriculum was William G. Seaman, a DePauw graduate with a doctorate from Boston University who came in with Hughes in 1903 as professor of philosophy. He and his immediate successor, Lisgar R. Eckardt, who had also studied with Bowne at Boston University, established Personalism as a major force in the mental and spiritual life of the university.

The most troublesome problem facing Hughes at the outset of his presidency was student indiscipline, which had apparently been growing at DePauw since the 1890s. Mild-mannered President Gobin, for example, found it necessary to suspend several sorority women for attending an off-campus party involving social dancing, a form of recreation strictly forbidden by university regulations, together with such activities as card playing and the consumption of alcoholic beverages. Fraternity and class rivalries burgeoned in this period, while students also began to display a heightened interest in intercollegiate athletics.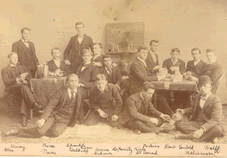 Partly accounting for all this may have been the rapid rise in university enrollments, which almost doubled during Hughes' presidency, reaching 1000 by 1909, along with putative changes in the social and economic backgrounds of the students. Formerly recruited in large part from families of modest means and rural or small-town origins, the student body now included a growing number of more affluent, city-bred youth, many of whom were ready to rebel against what was perceived as a repressive social and religious atmosphere.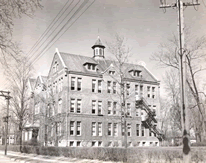 At any rate the young president took firm measures to restore campus order, even going as far as to patrol the local saloons from time to time on the lookout for students breaking the anti-drinking rule! He halted the practice of declaring frequent holidays from classes to celebrate athletic victories or similar events. Using his personal popularity with students to promote campus religious observance without resorting to the former emphasis on compulsory attendance, he initiated a monthly Sunday afternoon university service which attracted a large attendance.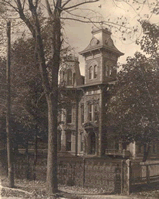 _________________________________________

The Towers, on the northwest corner of Seminary and Arlington streets, was built in 1875. It was the first president's home, purchased by the university for President Hughes and used as well by presidents McConnell and Grose. It was later made into apartments for faculty, until sold by the university in the 1970s.
_________________________________________
Hughes also spoke out strongly against the practice of celebrating Washington's birthday on February 22 each year by the traditional freshman-sophomore class scrap. These battles over possession of the opponents' flag or the Columbian Boulder in front of East College had grown increasingly violent in recent years, often causing serious injuries to students taking part in them. He used his presidential authority to call off the 1907 scrap and in its place in the fall substituted a new all-campus celebration featuring a morning chapel service, a milder version of the freshman-sophomore confrontation, several interclass athletic contests, and in the afternoon the Earlham-DePauw football game. The newly organized university band played, a great bonfire was lit after the football victory, and Hughes himself presided over an evening of "jollification" in Meharry Hall on this first Old Gold Day. Not long afterwards, the women students, feeling left out of much of the Old Gold Day activities, organized their own May Day festivities, with elaborately costumed dancing around a May pole, the election of a Queen of the May, tennis matches on the East College lawn, and theatrical entertainments in the evening. Both became annual campus events, May Day eventually giving way to Mothers' Day Weekend and Old Gold Day surviving to the present as alumni homecoming.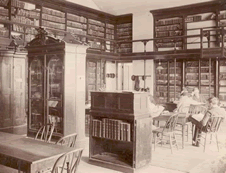 On the financial side, President Hughes managed to end the annual deficits. In effecting this he had the help of Salem B. Town, an Asbury alumnus and former minister of the College Avenue Methodist Church whom he persuaded to become the university's first full-time financial officer in 1905. Town not only put the institution's books in order but proved to be an energetic fundraiser. Methodist businessman Melvin Campbell of South Bend also played an important role in bringing the university back to financial stability by creating a sustaining fund from contributions of alumni and others that brought in about $45,000 over five years. Another $35,000 was added to the endowment with the final settlement of the affairs of the defunct DePauw College for Women in New Albany in 1907. During the Hughes administration the university's total endowment more than doubled, rising from $231,000 to $530,000.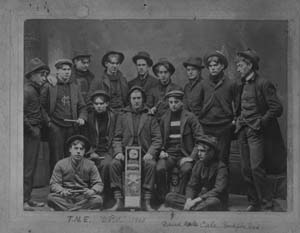 ______________________________
This picture of DePauw students is
labeled T.N.E., apparently a men's
club of 1901. The tradition of
appearing tough continues - note
the sticks of dynamite or large
firecrackers the students hold.
(McWhirter family photo)
________________________________