The first of only two presidents to be appointed from the teaching faculty, John Price Durbin John was one of DePauw's most popular teachers and administrators. He was born in southeastern Indiana and attended Brookville College but did not graduate. Later he went back as first professor and then president of that institution before moving on to become president of Moore's Hill College - now the University of Evansville. After further study in Europe he was invited to join Indiana Asbury in 1882 as professor of Hebrew and adjunct professor of Latin. The largely self-taught John showed his versatility, however, by instead accepting the chair of applied mathematics and astronomy. In addition he was briefly director of the department of music and conductor of the college chorus. His wife Orra John taught piano and voice from 1883 to 1890, making them the first married couple on the university faculty.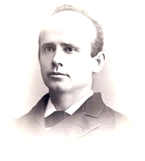 John was the favored candidate of the student body for the presidency when Alexander Martin resigned in 1889, as evidenced by a petition to the trustees signed by 800 undergraduates. When the news reached Greencastle of his election to that post on December 12, the college bell was rung for three hours and a holiday from classes declared. A large throng went to the Vandalia railroad station to meet the new president, the cadets marching in full uniform with the Greencastle Brass Band. Students pulled his carriage to East College for speeches and general festivities in Meharry Hall.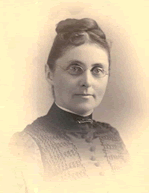 While John played a major role in creating an elective system at DePauw replacing the rigid classical curriculum as part of his advocacy of the "New Education," he was less successful as an administrator dealing with the board of trustees during a time of financial retrenchment. In 1895, after a bungled attempt by the board to name a chancellor in charge of financial affairs to share authority with John, the latter submitted his resignation as president. Although there seemed to be considerable support for the embattled president among students, faculty, and the whole university constituency, the resignation was accepted.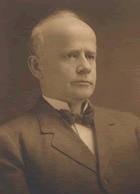 John continued to reside in Greencastle for the remaining 21 years of his life, earning a living as a visiting Methodist preacher and on the traveling lecturer circuit. As a main opponent of the famed agnostic orator Robert Ingersoll, he delivered a lecture entitled "Did Man make God, or did God make Man?" 500 times in three years. He was also in demand for his stereopticon-slide talks on his travels in Alaska and the Yukon. He is chiefly remembered at DePauw for the professorship of mathematics endowed in his name.

Back to Top