DePauw students did not spend all their time in classrooms, dormitories, boarding houses, or fraternity and sorority houses. The natural beauty of Putnam County invited excursions into the countryside, normally in this period by horse and carriage rented from a local livery stable. One of the more popular resorts was Cataract, or Eel River, Falls in the southern part of the county. Here two small waterfalls - the Upper Falls and the Lower Falls - were surrounded by a shady glade providing a perfect setting for picnic lunches and sightseeing walks. An equally long and pleasurable ride took one to the Cliffs of Fern, near the Fern Station of the Vandalia Railroad about 12 miles west of Greencastle. The large sandstone cliffs "covered with rare giant ferns and moss with good cold spring water available" along with the virgin hardwood forest, wild flowers, and meandering creek attracted students to the spot for recreation as well as for botany field trips. At one time it became so popular that the railroad ran excursion trains to it from Terre Haute and Indianapolis.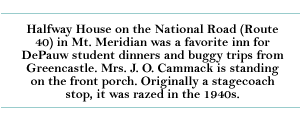 In another direction lay the Halfway House, a former stagecoach stop on the Old National Road in Mt. Meridian, about 12 miles southeast of Greencastle. Taking its name from its location halfway between Indianapolis and Terre Haute, the old inn, built of logs covered by weatherboard remained an important center of student social life until the mid-1920s. Many a romance began en route to or from Halfway House for an evening dinner. Indeed, university regulations expressly forbade couples traveling there in a "single rig," or two-seated buggy. Fraternities and sororities and other congenial college groups held parties there; even the faculty occasionally patronized the hostelry. Within its unpretentious exterior were well-furnished dining facilities. In a low-ceilinged dining room over a long table hung red oil lamps with glass pendants. On the table itself were many refined accoutrements to fine dining such as vinegar castors, stemmed compotes, and butter dishes. The cooking itself followed the native Hoosier tradition, with lots of fried chicken, dumplings, and home baked bread cut lengthwise. For dessert there were mince, pumpkin, and apple pies and the specialty of the house, cherry preserves.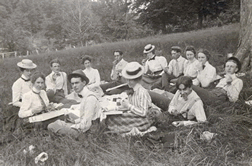 A place students often visited closer to campus was McLean Springs, near Limedale on the Manhattan Road within hiking distance of the campus. The clear springs here were so attractive that plans were formulated to bring in electric lights and make it a summer resort, but nothing came of the idea. A shorter walk south of the city took one to Forest Hill Cemetery with its grassy slopes among the tombstones. To the west was Sunset Hill, along the ridges behind present-day Blackstock Stadium, where student sweethearts could watch the evening star appear. Another place was the "Wall," a stone farm fence along Indianapolis Road at its juncture with Franklin Street about where the McDonald's franchise is today. Pittman's Pond on the site of the Quonset hut used as a university store room was available for boating in summer and skating in winter.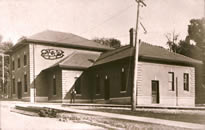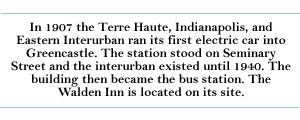 In Greencastle students could ride the Street Railway which operated from 1866 to 1890. Drawn by two horses, or sometimes by mules, wearing bells that tinkled noisily, two small closed cars with side seats and a stove in the center carried mail, baggage, and passengers from the Monon station past the hotels, the courthouse square, through the campus and on to the Vandalia station on the south edge of town.

The city boasted three hotels, where students could hold banquets and house their visitors. One was the Grand Central or Belknap Hotel, a tavern built of logs and weatherboards to which a three-story brick addition had been made. More luxurious was the Commercial Hotel, originally known as the Jones Hotel and from 1880 to 1896 as Walnut Street House. It was famous for its mirrors and chandeliers as well as good dining. Closest to campus was the Crawford House which opened for business in 1908 on Seminary Street across from the interurban station. Its proprietor, "Greasy Fred" Crawford, hired DePauw men as waiters and catered to students and traveling salesmen.
Affording students an escape route to the joys of big city life was the Terre Haute, Indianapolis, and Eastern Interurban Railroad which ran through Greencastle from 1907 to 1940. An hour's trip brought one to the "sin city" of Terre Haute or to Indianapolis for shopping, dining, or the theatre. Whole carloads of students boarded the train at the interurban station located on the present site of the Walden Inn to attend oratorical contests or athletic events.

Back to Top