Pages: << Back 1 2 3 4 5 6 7 8 9 10 Next >>
Longest-lasting of all the new institutions was the School of Music, which evolved from a small department begun in 1882 by Professor of Mathematics John P.D. John. Dean for the first 10 years was James H. Howe, a graduate of the College of Music of Boston University, who had been teaching at the New England Conservatory of Music. Among the early instructors were pianist Julia Druley, who remained on the faculty for 50 years; Greencastle violinist Rosa A. Marquis; and cellist Adolph Schellschmidt. There were programs for three classes of students: candidates for the new degree of Bachelor of Music; liberal arts students seeking the Bachelor of Literature degree; and others who simply wished to "pursue music to a greater or lesser extent," as the catalogue stated.

_______________________________________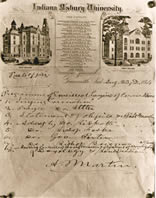 A handwritten letter on university letterhead signed by President Alexander Martin indicates the program for the cornerstone laying of Middle College.
_______________________________________

Dean Howe set about energetically to organize the musical activities on campus in a more systematic fashion, helping to form a host of new and old choral groups, instrumental ensembles, and an orchestra. Beginning with the 1885 commencement he arranged an annual musical festival, with large choirs presenting such works as Haydn's Creation or Handel's Messiah. He was disappointed, however, when the faculty refused permission to stage the Mikado - Methodists were not yet ready for opera!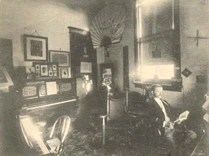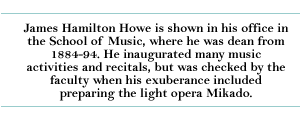 In the fall of 1885 Dean Howe encouraged a group of women students enrolled in the School of Music, not then admitted into any of the existing social fraternities, to establish their own sorority, Alpha Chi Omega. Eventually accepting liberal arts students as well, this organization became the Alpha chapter of a new national social fraternity, the second such founded at DePauw.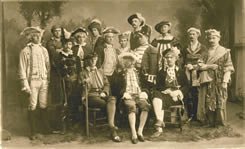 Asbury alumnus Thomas Jefferson Bassett directed the Greencastle Preparatory School, successor to the preparatory department which had existed since the founding of Indiana Asbury in 1837. Originally the school was projected as only one of a network of similar institutions intended to feed into the collegiate branches of DePauw University, but the others never materialized. The Preparatory School flourished for many years before the public high school movement reached full tide in Indiana. Its rigorous three-year course of study comprised Greek, Latin, mathematics, English, history, and natural science, taught by its own corps of instructors, often including recent graduates of DePauw. Preparatory students participated in military drill along with college students, fielded athletic teams, and even published their own school paper from time to time.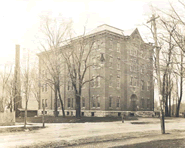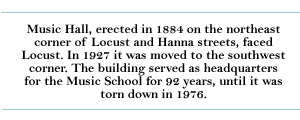 Finally, the university proposed to inaugurate post-graduate work leading to both the M.A. and the Ph.D. degrees. Various honorary degrees had long been awarded, as well as the M.A. in cursu to graduates who presented evidence after three years of their intellectual growth and good moral character. Under the new program five Ph.D.s were actually conferred between 1886 and 1893 before the faculty wisely voted to halt the practice on the grounds of inadequate resources. The M.A. in cursu was itself eliminated by 1894, but the university maintained a modest program of earned master's degrees that has continued to the present time.