Pages: << Back 1 2 3 4 5 6 7 8 9 10 Next >>
Vice President John Clark Ridpath, who had been one of those most responsible for obtaining the assistance of W.C. DePauw and for planning the reorganization of the university, resigned suddenly in 1885 at the age of 45. Already the author of several textbooks, he gave up his university post in order to devote himself fully to literary endeavors. Working in his home on East Washington Street - now the site of Bittles and Hurt Funeral Home - he set out upon a prolific publishing career that made his name a household word in many parts of the country and Greencastle a minor Hoosier literary center. Writing not for a scholarly audience but for "the practical man of the shop, counter, and the plow," he produced scores of volumes bearing such titles as Popular History of the United States, Cyclopaedia of University History, and Great Races of Mankind. They were sold by subscription in small towns and villages by travelling book agents such as young Huey Long, who peddled them in rural Louisiana to earn money for his education.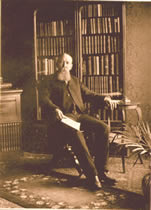 ________________________________________________________


John Clark Ridpath, professor at Indiana Asbury from 1869-85, taught English literature, normal instruction, belles lettres, history and political philosophy. He was vice president from 1879-85 and was instrumental in acquiring the DePauw gift and making the plans for the expanded university.

_________________________________________________


In 1896 Ridpath interrupted his literary labors briefly to run for Congress from his home district on the Populist-Democratic fusion ticket. Losing the election, he moved to Boston to edit a muckraking journal, The Arena, and two years later went to New York to edit the literary department of his publisher. He died there in 1900. A contemporary journalist described the former DePauw professor and administrator as not only a "popular historian ... but also a profound thinker, a man of deep convictions, and a political and social reformer of absolute courage."

One of Ridpath's former students, Jesse W. Weik, was a Greencastle native who added to the literary luster of his hometown at this time by gathering materials from Abraham Lincoln's onetime law partner, William Herndon, and collaborating with him in publishing Herndon's Lincoln in 1888. Written largely in Greencastle while Herndon was visiting Weik in August 1887, the volume was the first to describe in detail Lincoln's early life in Indiana and Illinois. After Herndon's death Weik kept the manuscripts in his Greencastle home, where he utilized them in several articles and another book on Lincoln and made them available to Lincoln biographers such as his fellow Asbury alumnus Albert J. Beveridge and Ida Tarbell.

Alexander Martin, whose presidential term spanned the last decade of Indiana Asbury and the opening years of DePauw University, resigned his administrative duties in 1889 but remained professor of mental and moral philosophy for another five years. He had been a strong executive who had worked closely with Washington C. DePauw in successfully effecting the transition to the new, expanded university. But the times called for a different, more modern type of leader.

The trustees chose as his successor Professor of Mathematics John P.D. John, who had also been vice president since 1885. The first member of the faculty to be elevated to the presidency, John was immensely popular with students, as evidenced by a petition signed by a majority of them and sent to the trustees urging his appointment. Despite his lack of academic credentials - he had no earned degree - he was a man of wide-ranging intellectual prowess. He was familiar with the ideas of such educational reformers as Charles W. Eliot of Harvard and Daniel C. Gilman of Johns Hopkins and had thought deeply about the aims and methods of higher education. His relatively short tenure as DePauw's president was to witness significant change in the university's academic program as part of the general movement that was transforming American colleges and universities of that time from rather narrow, pedantic seminaries into more open, intellectually freer institutions of learning.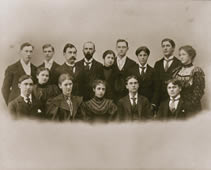 President John set forth his ideas in an inaugural address entitled "The New Education," perhaps the most important ever delivered at the university. Turning away from the rigidities of the prescribed curriculum, he advocated a wider choice of elective studies to provide "freedom for the pupil, freedom for the teacher, and freedom in the subject." No iconoclast, John was not ready to abandon completely the older emphasis on classical languages and mathematics; instead he opted for broadening the variety of disciplines through which students might experience the "process" of intellectual growth.

The university had already begun to move cautiously in the direction of electives, especially for students in their junior and senior years. Now the movement was accelerated, culminating in a program based on a core of basic requirements with the rest of the curriculum more or less open to free choice. To provide greater intellectual depth in particular fields, students were required to elect "majors" and "minors" for the first time. Depending upon the choice of major and of a classical or modern foreign language, graduates were awarded the degree of bachelor of arts, bachelor of philosophy, or bachelor of science. The bachelor of literature degree, which accepted credits in music and art, was eliminated.

Back to Top