Pages: << Back 1 2 3 4 5 6 7 8 9 10 Next >>
Interest in athletics resumed after the war with renewed emphasis on intercollegiate competition. In 1921 alumni, who were primarily responsible for the oversight of the program through the DePauw Athletic Board, formed a new advisory council of 100 men which met annually in Indianapolis and helped to recruit promising athletes. President Grose was moved to remind the university constituency that it "must not yield to the prevalent wild craze over athletics." The next year DePauw joined with other colleges and universities in the state, large and small, in forming the Indiana Intercollegiate Athletic Conference, which adopted the rules and regulations of the Big Ten Conference.


DePauw still scheduled football, baseball, and basketball games with such rising athletic powers as Notre Dame, Purdue, and Indiana University for a few years. The need for better outdoor athletic facilities was met by the gift of $25,000 by Ira B. and Mary H. Blackstock in 1921 for that purpose. Two years later Blackstock Field was dedicated in a football game with Franklin College on Old Gold Day, 1923. Comprising a sodded gridiron and baseball diamond as well as a quarter-mile track, it superceded the smaller McKeen Field, which was diverted chiefly to intramural athletics.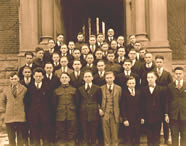 The outstanding accomplishment of the immediate postwar years was the creation of the Rector Scholarship Foundation, first proposed in June 1919 by Edward Rector, the Chicago lawyer and philanthropist who had already financed the construction of a women's dormitory named for his father. His aim in setting up the foundation was to attract to DePauw many of the best and brightest graduates of Indiana high schools by awarding scholarship grants covering all college fees to 100 young men of high academic standing and character each year. Women were originally excluded from the program on the grounds that their rising numbers at the university were overtaxing housing and other facilities. Later this ban was lifted and eligibility also extended to graduates of any commissioned high school in the country, not only those in Indiana.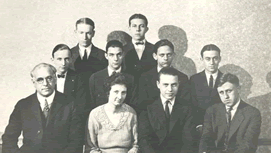 Rector named Professor Henry B. Longden the first secretary of the foundation, which eventually reached a total funding of nearly $2.5 million, a considerable addition to the university's resources. Moreover this farsighted program contributed immensely to the intellectual life of the university by helping to subsidize the DePauw education of thousands of highly qualified students, many of whom would be otherwise unable to attend college.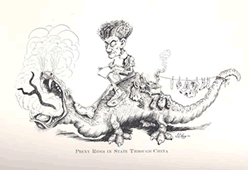 President Grose spent the 1921-22 academic year in China on a special leave granted him for the purpose of gathering materials for a biography of James Bashford, the well-known Methodist bishop in that country. He published his findings in book form in 1922. Upon Grose's return to campus he devoted most of his remaining tenure as president to the successful prosecution of a million-dollar endowment campaign. Finally, in 1924 he was himself elected a bishop of the Methodist Episcopal Church and left Greencastle to take up his new post in China. He later returned to the United States to become the editor of a religious periodical in California. A final contribution to DePauw University was a short biographical sketch of Edward Rector published in 1928. Grose died in 1953.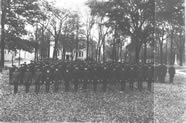 ______________________________________________
The Reserve Officers' Training Corps lined up on the present site
of Asbury Hall in 1921. In the background is the Carnegie Library
and in the right rear, the Roberts Grave.
____________________________________________________

To replace Grose the trustees sought an experienced college administrator, preferably a DePauw alumnus, who could attend to the internal affairs of the university at a time when enrollments were burgeoning and student unrest was rising. They turned to Lemuel H. Murlin, who had earned both a B.A. and S.T.B. from DePauw and had served as president of Baker and Boston Universities. At 63, Murlin was far older than any other president of the university at the time of election to that office and admittedly in poor health.
He accepted the post on the condition that he not be called upon to undertake a financial campaign and undoubtedly looked upon it as less taxing than the presidency of Boston University, which he had just led through a period of major growth. His wife, the former Ermina Falass, was also familiar with DePauw, having earned one of the first Ph.D.s awarded by the institution and taught in the preparatory department. The Murlins did not arrive on campus until February 1925, when they moved into rented accommodations until the new presidential home-a large Georgian Revival structure on Wood Street purchased by the university-was ready for occupancy.

Back to Top