Henry Boyer Longden was born in Vevay, Ind., in 1860, the son of a Methodist minister. Attending both the preparatory and college departments of Indiana Asbury University, he graduated in 1881 with the intention of becoming a physician or surgeon. After trying briefly to raise money for this purpose by selling books door to door, he returned home one day to find a letter from President Alexander Martin inviting him to teach Greek and science in the preparatory department. Later he taught Latin in the College of Liberal Arts and in 1892 was named professor of German language and literature, a post he held until his retirement in 1935.

Though he had no formal graduate training, Longden was able to study at Goettingen and Leipzig during a leave in 1888-1890 and again in 1898 at Munich. A later sabbatical leave was spent at Amherst College and the University of Chicago. DePauw awarded him the A.M. degree in 1884 and an LL.D. in 1925. A sympathetic interpreter of German civilization, he was often referred to by his students with affection as "Kaiser" Longden.
Besides teaching, which was his main love, Longden held many administrative posts, including registrar and librarian early in his career. In 1919 he was named secretary of the Rector Scholarship Foundation and in 1922 vice president of the university, a largely honorary position, though it placed him in charge of the university affairs during presidential absences in 1921-22 and 1924-25. Longden Hall, constructed in 1927 through the generosity of Edward and Lucy Rowland Rector, was named for the veteran German professor.

Professor Longden became a veritable institution at DePauw during his 73 years as student and teacher-administrator. For many years he was called upon to give the welcoming address on the opening day of college. He once wired an entering student this recipe for a successful college career: "Choose men, not subjects; attend chapel daily."

Longden was married to DePauw graduate Mary Louisa Johnson, who preceded him in death in 1935. Their descendants are active participants in DePauw activities to this day, and his daughter-in-law, Hazel Day Longden of the class of 1916, remains a continuing link with the institution's past. Professor Longden lived on in Greencastle after retirement, dying in 1948 in his 88th year.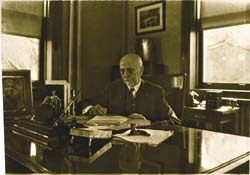 ____________________________________________________
Henry B. Longden graduated from Indiana Asbury in 1881
He immediately joined the faculty of the preparatory department
and soon the college, teaching Greek, Science, Latin, and German
as well as serving as sometime Registrar, Librarian, Acting President,
and Director of the Edward Rector Foundation. He is shown here
in his administrative office in Studebaker Hall. The picture on his
desk is that of Mrs. Longden.
____________________________________________________

Back to Top