William Martin Blanchard left Rose Polytechnic Institute in Terre Haute in 1901 to begin a 40-year career as professor of chemistry at DePauw. A 28-year old North Carolinian with a Ph.D. from Johns Hopkins, he was to have a profound influence on the university. He chaired the enlarged chemistry department, and later became academic dean, helping to guide the institution through the difficult years of the Great Depression.

In January 1903 Blanchard was able to move the department of chemistry from its far-from-adequate quarters in the basement of East College into the north wing of the newly erected Minshall Laboratory. He presided over the installation there of modern laboratory equipment and a special chemistry library named for his predecessor, Philip S. Baker. He began attracting a corps of excellent students who went on to become leading chemists and physicians. The Chemistry Club, which he founded in 1908, often met in his Greencastle home. Despite a heavy teaching load he found time to publish research articles as well as a chemistry textbook and laboratory manual.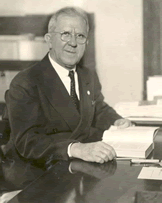 _____________________________________________
William Martin Blanchard came to DePauw in 1901 as
professor of chemistry and remained until his retirement
in 1941. Appointed associate academic dean in 1927 and
dean in 1931, he served both the Oxnam and
Wildman administrations.
_______________________________________


In 1927 President Lemuel Murlin persuaded Blanchard to take on administrative responsibilities as an associate of aging Dean Edwin Post. Upon the latter's retirement in 1930 Blanchard assumed the full duties of the deanship in addition to heading the chemistry department. He was also the longtime chairman of both the admissions and the athletic committee. A heart attack in 1938 slowed down the hard-working Blanchard, who took a leave of absence to recover his health. Unable to continue his scientific research during his convalescence, the versatile professor turned to writing poetry. He gave up the chemistry headship in 1939 and retired from the university fully two years later.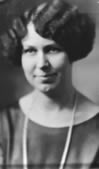 ___________________________________________
Vera Worth Blanchard was the second wife of Dean William M. Blanchard. She was university registrar from 1923 to 1933 and before her retirement served as secretary to the Student Union.
___________________________________________

At alumni chapel in June 1941 former students lavished praise upon Blanchard as a teacher, scientist, humanitarian, administrator, and poet. He suffered a stroke and died in 1942, survived by his second wife, Vera Worth Blanchard, who had been registrar of the university at the time of her marriage. One of his most distinguished students, Percy L. Julian, whom Blanchard had brought back to DePauw as a research fellow in the mid-1930s, penned a poetic tribute to him that began:
From him I learned that Truth and Grace
Do not belong to but one race.