Among the most generous benefactors of DePauw University were Edward and Lucy Rowland Rector. The wealthy, refined, childless couple virtually adopted the university-faculty, students, administration-as part of the family and lavished upon it the gifts which made possible a financial resurgence in the 1920s.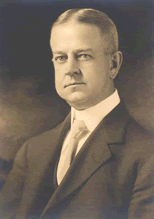 ____________________________________
Edward Rector, trustee from 1916 to his death in 1924, founded the Rector Scholarship Foundation and was the donor of Rector Hall, Lucy Rowland Hall, and Longden Hall. He was a prominent Chicago patent lawyer.
_________________________________________
Born in Bedford, Ind. in 1863, Edward Rector worked at odd jobs after leaving school in his teens when his father suffered financial reverses. In 1882 he moved to Cincinnati, where he clerked in a law office while attending law classes. He graduated from the University of Cincinnati Law School in 1885 and began a career as a patent attorney, first in Cincinnati and then in Chicago. Through his friendship with another Chicago lawyer, DePauw alumnus and trustee Roy O. West, Rector became acquainted with DePauw President George R. Grose and took an immediate interest in the affairs of the Greencastle institution. He was named to the board of trustees in 1916 and played a large part in the capital fund campaign initiated that year.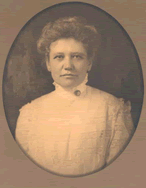 While dining with President Grose in New York at the time of the General Conference of the Methodist Episcopal Church in the summer of 1916, Rector, a devout Methodist layman, is reported to have asked his companion what facilities DePauw University most needed. When Grose replied immediately, "a women's dormitory," the Chicago attorney pledged his personal gift of $100,000 to construct one. Rector Hall was completed in 1917 and was named for the donor's father, Isaac Rector, who had served as a trustee of the university in the late 1860s when coeducation was introduced. Two years later came the creation of the Rector Scholarship Foundation to provide scholarships at DePauw for 100 of the brightest male graduates of Indiana high schools each year. Until his death in 1925 Edward Rector visited the campus frequently and kept in touch by correspondence with many of the Rector Scholars, whose hometowns he marked on a large map of Indiana in his Chicago law office. His gifts to the university, as he explained to his fellow trustees, were "investments in humanity, in the men and women who are to carry out the work of our country and of the world when you and I are gone."

In his will Rector left a considerable part of his fortune to DePauw, the bulk of it to finance the scholarship program. He also provided $500,000 to construct two additional dormitories, one for men and one for women. The first, Longden Hall, named for Professor Henry B. Longden, was constructed in 1927. The second, Lucy Rowland Hall, was completed in 1928 and named in honor of Rector's widow, who carried on her husband's interest in DePauw for many years until her own death in 1949. Altogether, by lifetime gifts and bequests, Edward and Lucy Rector contributed a total of more than $3.8 million to DePauw.

Back to Top