In December 1914 there appeared on the DePauw campus the first issue of the Yellow Crab, a humor magazine sponsored by the journalism fraternity, Sigma Delta Chi. Its editors announced that the journal would accept no advertising and contain "nothing literary, nothing serious, nothing sensible." Subsequent issues, published irregularly over the next several years, became increasingly brash and risqué, often provoking the sarne kind of official displeasure as the boguses of an earlier era. In 1919 the faculty decreed that no further numbers could be issued without approval by university authorities. Despite this form of censorship the Yellow Crab continued to be a lively student publication, excerpts from it appearing occasionally in the national journal College Humor in the 1920s.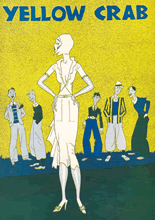 ____________________________________________
Cover of the Yellow Crab in 1930. Controversial, clever and
collegiate might be appropriate terms for this "notorious" campus
humor magazine, particularly prominent in the "roaring twenties."
___________________________________________


With its penchant for caricature and coarse humor, the magazine was unable to avoid conflict with the university administration. A former business manager, George Smock, has related how it successfully met one such challenge in 1927. Called into the Dean's office to receive a stern lecture on the offensive character of the current issue, he contritely promised to halt further sales of the issue and destroy all unsold copies. During his extended conference in the administration building, however, his energetic business staff had managed to distribute the entire printing run!

Finally, in the fall of 1932 the administration reacted to the ever racier and more audacious contents of the Yellow Crab by suspending its editors from the university. The national office of Sigma Delta Chi went so far as to revoke its parent chapter's charter for a time. Though the students involved were eventually reinstated and the journalistic fraternity's charter restored, Yellow Crab never resumed publication.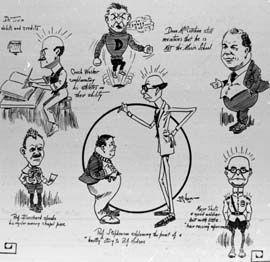 ________________________________
Typical of Yellow Crab humor was
this cartoon depicting faculty in the
December, 1930 issue of the humor
magazine.
___________________________________

Less controversial was the DePauw Magazine, founded in the fall of 1919 by Professor Raymond W. Pence as a means of encouraging student literary expression. This quarterly journal contained a variety of articles, short stories, poetry, and book reviews as well as a few local advertisements to help pay printing costs. In the early 1920s Doubleday, Page, & Company collaborated with the editorial staff in the award of an annual O. Henry prize to the student submitting the best short story. The prize consisted of a complete leather-bound set of the collected works of William Sydney Porter, who wrote under the pen name O. Henry. From 1935 to 1937 the DePauw Magazine was issued in a larger and more attractive format, with a colorful cover and black and white illustrations. Financial constraints, however, brought about its demise in the latter year. It was not to be revived for nearly two decades.

Its successor, the Boulder, began publication in 1936, combining the character of both a literary and a humor magazine. Somewhat livelier than the DePauw Magazine, it boasted a handsome cover and filled its pages with photographs, wood-block illustrations by student art directors such as Don Booty, and short stories, poetry, a humor column, and feature articles, often controversial in content. In 1941 the Boulder created a minor literary sensation by publishing verses allegedly written by a former DePauw professor who had hidden them in the belfry of East College before his mysterious death in 1889. The journal also included a fictitious biography and blurred portrait of the poet. Editor Robert Hair and Professor Wisner Kinne of the English department eventually confessed to the hoax, but not before area newspapers had picked up the story and publicized it far and wide. The Boulder survived the war years and lingered on until 1952. While tending to become more of a general magazine dealing with campus life during its later years, it retained a solid literary section, where the early fiction of DePauw authors Jack Kennedy and John Jakes appeared.

Back to Top