<< Back

For 21 years from 1915 to 1936, Dean Katherine Alvord ruled over the personal and social life of DePauw coeds with a kindly but firm hand. She was the first member of the faculty with primary responsibility for such a task, though she also taught a course in American colonial history each semester. Holding a B.A. from Michigan and M.A. from Columbia, she came to DePauw at the age of 44, having taught both high school and college classes and supervised a women's dormitory at the University of Wisconsin. She also was strongly recommended by the author of a recent book on the then new profession of dean of women.



She proved more than adequate to the difficult task of guiding the university's policies and practices for female students. Her tenure lasted from the prewar period through the social rebellion of the 1920s and 1930s and the accompanying changes in dress, behavior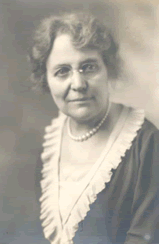 , and the social, economic, and political roles of women. Balancing pressures from the Methodist Church, the faculty and trustees, and traditional parents, she maintained discipline while gradually liberalizing regulations and expanding the horizons of her charges. Dean Alvord knew the name of every coed and was held in awe and admiration by most.

Ahead of her time, she advocated university sponsorship of social dancing and remedial gymnastic exercises for women. She extended the permission for men to visit women in the parlors of their living units from two evenings to any evening in the week. "Any night but not every night," was her prescription for dating. She also helped to organize the Women's Self-government Association, the Association of Women Students and the Women's Sports Association, as well as the DePauw chapter of the women's honorary society, Mortar Board. Though she would not have called herself a feminist, Dean Alvord encouraged DePauw coeds to be independent-minded, widen their vocational opportunities, and strive to attain self-fulfillment.

She retired in 1936 to her home in Gaylordsville, CT, with the final statement, "I've thoroughly enjoyed my work, almost every bit of it." She died in 1960 at the age of 88. There is a plaque in her honor in Rector Hall. Perhaps even more appropriate to her memory are the anonymous lines found on a mimeographed sheet in her correspondence in the DePauw archives under the title, "Dean Alvord: The Uncrowned Queen."
"We will march, march on down the field
Shouting for a real DePauw.
Break through Dean Alvord's line her strength to defy.
We'll give a loud cheer for DePauw's men,
we're here to win again.
FIGHT, FIGHT DEAN ALVORD TO THE BITTER END. "