Pages: << Back 1 2 3 4 5 6 7 8 9 10 Next >>

The university, having become firmly established, was now ready for new challenges in the changing conditions of the second half of the 19th century. Perhaps symbolic of the end of pioneer Indiana Asbury was the erection of the Bishop Roberts gravesite monument on the east side of the Edifice. The body of Roberts, who presided over the Indiana Methodist Conference at the time of the granting of the university charter, was returned to campus along with that of his wife to reside under a stone obelisk-type marker. This monument stands today between Harrison and Asbury halls, the only remaining symbol of Indiana Asbury before the Civil War.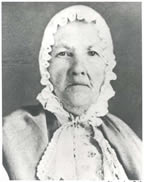 ___________________________________

The monument to Methodist Episcopal Bishop
and Mrs. Robert R. Roberts, which marks their gravesite, was
erected in 1859. The stone marker was a gift of the Methodist
preachers of Indiana. The only remaining object on the
DePauw campus from before the civil war.
________________________________________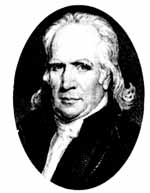 _______________________

Bishop Robert R. Roberts
__________________________
The inauguration of Thomas Bowman as president in June 1859 was thought by many to usher in a Golden Age for Old Asbury. The new president, who began a relationship with the institution that was to last for 53 years, had graduated from Dickinson College, studied law and had both business and teaching experience. Before this able leader could preside over major changes in the university, however, he was faced with four crisis years of the Civil War. Despite the near-mass exodus from campus of older boys, the university did not close, though the law school was discontinued in 1862. In 1862-63 enrollment slipped below 200 for the first time since 1846, with 61 in the college and 128 in the preparatory department. Enrollment picked up toward the end of the war, and in 1865-66 reached the highest to date, 407, of whom 159 were in the college. It was obviously the preparatory department, with its large number of boys below the age of military service, which rescued the institution. The number of faculty remained stable, although Professor Fletcher was not replaced when he resigned.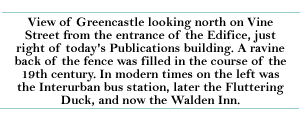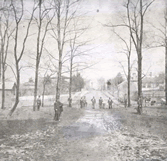 Despite the interruption of the Civil War, the long Bowman administration-it lasted 14 years produced significant educational progress. Alongside the traditional classical course leading to the bachelor of arts degree and the new scientific department which was extended to a full four-year program culminating in a bachelor of science degree in 1858, were added a Biblical and a normal department, making electives available for students preparing for the ministry or for teaching.

Financial conditions improved somewhat after the war, permitting increases in faculty salaries, which in 1867 were $1,500 per year for professors and $2,000 for the president. While a campaign to raise an endowment in celebration of the centenary of American Methodism in 1866 proved disappointing, several individuals made generous gifts to the university. The John Harmon Chair of Biblical Literature was established in 1865 and four years later the Robert Stockwell Professorship of Greek. Stockwell, from Lafayette, contributed an estimated $77,000 to the university in these years. Lastly, citizens of Greencastle contributed sufficient funds to begin to construct a badly needed new building to supplement the facilities of the Edifice. The cornerstone for this structure, to be located in a large field east of the old campus, was laid on October 20, 1871.

In these years the faculty had expanded to seven positions, including the president, who was also professor of mental and moral philosophy as well as Harmon Professor of Biblical Literature. The veteran Joseph Tingley remained professor of natural science throughout the period, becoming vice-president as well in 1860. The chair of Greek language and literature, after the resignation of Lattimore in 1860, went to Philander Wiley. The Latin chair was held first by Benjamin T. Hoyt and then by Lewis L. Rogers, who also served as principal of the preparatory department for a time. In 1860 John W Locke succeeded Cyrus Nutt in mathematics and in 1863 German-born John A. Reubelt was appointed to teach modern languages, followed by John E. Earp in 1869. Earp was the first teacher with graduate training, two years at the universities of Tubingen and Berlin. John Clark Ridpath joined the faculty in 1869 as professor of English literature and normal instruction, transferring to the chair of Belles Lettres and history two years later.

The most important innovation of the Bowman years was the admission of women students in 1867, 30 years after the founding of Indiana Asbury. During those three decades the higher education of women had been much discussed in the United States and a number of all-female and a few coeducational colleges had been established. Greencastle itself was the site of several "female seminaries," including a very successful one operated by Harriet Dunn Larrabee, wife of Professor William C. Larrabee. As early as 1855 the Asbury trustees went so far as to appoint a committee to consider the establishment of a "Female Department of the University."
Back to Top

Pages: << Back 1 2 3 4 5 6 7 8 9 10 Next >>