It was difficult to maintain a men's college during the Civil War. Southerners dropped out of school early; in 1860-61 there were two from Louisiana, two from Mississippi, and six from Kentucky. With the fall of Fort Sumpter on April 16, 1861, Lincoln's call for volunteers, supported by Governor Oliver Morton of Indiana, brought confusion to the campus. Classes were immediately dismissed, and students began to sign up. Within five days a company known as the Asbury Guards was drilling on campus. On Sunday, April 21, young men who had joined spoke at morning services in the new Methodist Church, Roberts Chapel. In the regular Sunday afternoon lecture President Bowman gave advice to the youthful volunteers. This was followed by a religious service in Philo Hall in which the volunteers spoke of their home in heaven and their willingness to sacrifice all for country. Fifty guards joined the church that evening and 16 the next morning. On April 24 the Guards left for Indianapolis.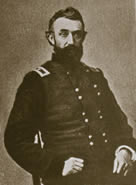 Likewise the Putnam County Union Guards was formed among townspeople in Greencastle; like the Asbury Guards, this group included both college and townsmen. Each had 60 or more privates and a dozen commissioned and non-commissioned officers. Eli Lilly, a local druggist who had attended the preparatory department, was an orderly sergeant. President Bowman and other Greencastle residents visited the volunteers at Camp Morton in Indianapolis. By early May most of the Asbury Guards were back in Greencastle, reluctant to enlist for three years. Those who remained joined the 10th Indiana Volunteer Regiment and fought in Virginia, Kentucky, and Tennessee. Some of the returnees had second thoughts, went to Camp Vigo in Terre Haute and became Company D of the 14th Indiana Volunteer Infantry Regiment. One of President Bowman's own sons was hospitalized while serving in this regiment. Eventually many transferred to other regiments and became officers. Likewise former students and graduates served in units from other states.

The next exodus from campus came during Morgan's Raid on July 1, 1863, when local militia in the "Putnam Blues" were called up. It held a major review in October of that year on the present East College lot. More students left when in 1864 Lincoln called for volunteers for 100 days' service in a relief capacity.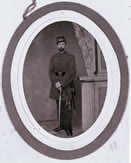 Some 450 Asbury men served. An incomplete list includes 18 colonels, 14 lieutenant colonels, 16 majors, 19 chaplains, 26 surgeons and assistant surgeons, seven adjutants, 64 captains, 42 lieutenants, and 200 noncommissioned officers and privates. One Confederate brigadier general and three colonels, including Reuben Millsaps, who founded Millsaps College, had attended Indiana Asbury. Of the faculty, two short-time teachers served. Former professors Tefft and Hibben were chaplains, two former members of the medical college served as surgeons, and A.C. Downey of the law department became a brigadier general in the militia. Miles Fletcher served as a special aide to Governor Morton and was killed in an accident while on a battlefield trip to take hospital supplies and bring back wounded and sick. Five later members of the faculty served in the war, including President Hillary Gobin. President Bowman was Chaplain of the United States Senate from May 1864 to March 1865.


_____________________________________________________________

A corps of Civil War cadets, probably from Putnam County.
_____________________________________________________________________