Pages: << Back 6 7 8 9 10 11 12 13 14 Next >>

Nothing, however, came of this or subsequent proposals, though a similar recommendation by President Bowman in 1860 received approval from the board of trustees before being laid aside when war broke out. In July 1864, a meeting of interested persons held in Roberts Chapel in Greencastle proposed to raise funds for a building to house a woman's college in conjunction with Indiana Asbury, but no more was done. At long last, in June 1867 the board of trustees after protracted discussion pro and con opted for a fully coeducational institution by simply voting to "receive Female students into the regular College classes of the University."

That fall five young women, all but one residents of Putnam County, enrolled as freshmen. Four of them-Alice Allen, Laura Beswick, Bettie McReynolds Locke, and Mary E. Simmons-became Asbury's first women graduates in 1871. The fifth, Amanda Beck, dropped out after the freshman year. The coeds had to face the open hostility of a minority of male students resentful of their presence at first. But with the wholehearted support of the faculty, the board, and most Methodist clergy, and the strength of their own resolve they soon won a position of respect and full acceptance in the university.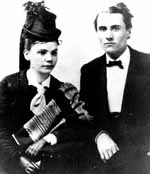 _______________________________________
Mary Nelson Stevenson was in the second class to
admit women (1869) and graduated in 1873. Henry
Augustus Buchtel graduated in 1872, and later
became a Methodist pastor, Chancellor of the University
of Denver and governor of Colorado. This was one of
the earliest student marriages at Old Asbury.
_____________________________________________
Their numbers grew slowly but surely and in 1871 girls were admitted to the preparatory department as well. Barred from the all-male literary societies, they founded their own Philomathean Literary Society in 1869, and the next year their fellow students were startled to discover that a female social fraternity, or sorority, had been organized on campus-Alpha Chapter of Kappa Alpha Theta, the first of its kind in the United States. Inevitably, perhaps, the first campus wedding took place on Commencement Day 1871, when Laura Beswick married the Rev. Robert N. McKaig of the class of 1870. Officiating was a classmate of the groom, the Rev. Hillary A. Gobin, later to become a professor and then president of the university.

Thomas Bowman's presidency came to an end when the General Conference of the Methodist Episcopal Church elected him bishop on the first ballot in 1872. This able and popular administrator continued to serve Indiana Asbury and DePauw University as a member and president of the board of trustees and later as chancellor and chancellor emeritus before his death in 1914 at the ripe age of 96. A perhaps trivial sidelight is that the Bowmans had the largest presidential family, eight sons and three daughters.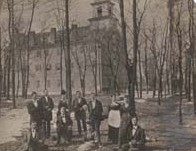 ___________________________________
A group poses in front of the Edifice during the
1870s. Note the apron, a student symbol of the
the era, worn by one coed.
___________________________________

A special meeting of the trustees chose as Bowman's successor Reuben Andrus, a graduate of McKendrie College and pastor of the Meridian Street Methodist Church in Indianapolis. After three years marked by financial problems resulting from the Panic of 1873 and some lack of harmony with both faculty and student body, Andrus returned to the pastoral ministry until his voice failed and he took over the management of a large farm in Howard County, Indiana.


President during the last nine years of Old Asbury's existence was Scottish-born Alexander Martin. A Methodist clergyman who had spent most of his previous career in teaching or administrative posts-most recently as first president of the new West Virginia University-he proved to be a vigorous and competent academic leader at a crucial time in the life of the university.




The faculty experienced some expansion and a good deal of turnover in these years. Asbury graduate Patterson McNutt, who had been a Civil War captain and a college president in Kansas, replaced Locke in mathematics in 1872. Another alumnus, John B. De Motte, headed the preparatory department from 1874 to 1882 before being named professor of mathematics and later professor of physics. Philip S. Baker began in 1875 as tutor in natural science and English and later became the university's first professor of chemistry.
In 1877 the board of trustees took the extraordinary step, perhaps motivated by indications of faculty administration dissension going back to the Andrus period, of declaring all chairs but that of the president vacant, with annual elections to the faculty thereafter. Though this draconian measure was quickly rescinded, the board adopted a recommendation of a committee headed by ex-president Bowman to "restructure" the faculty. In pursuit of this policy, apparently endorsed by the president, all professors were asked to submit their resignations in 1879, and Tingley, Wiley, and Rogers were summarily dismissed. The reasons for removing these particular men, whose service to the university totaled 32, 20, and 18 years respectively, are unknown, but the episode shows clearly the insecure position of the faculty at this time and the forceful role of the trustees and president in university governance.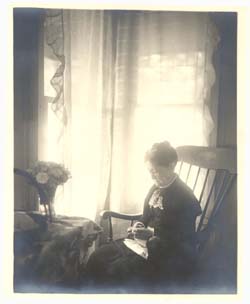 _________________________________

Matilda Stamper Andus

_____________________________________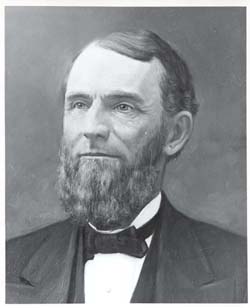 _________________________________
Reuben Andrus, fifth president of
Indiana Asbury from 1872-72.
_________________________________

While President Martin's role in this affair is somewhat unclear, he took the opportunity to build a strong young faculty by filling these and other vacancies. John M. Mansfield was brought in from Iowa Wesleyan to replace Tingley but had to resign in 1883 after a mental breakdown. Most of the others appointed to chairs in this period went on to long careers at the university, including Edwin Post, who replaced Rogers in Latin, and Asbury graduate Henry B. Longden, who began as instructor in Greek and science at his alma mater in 1881. Two men who later became presidents of the institution joined the faculty in 1880 and 1882: Asbury graduate Hilary A. Gobin in Greek and theology, and John P. D. John in mathematics. In 1882 Asbury alumna Alma Holman became the first woman named to a full professorship, although Alice Downey (Porter), another alumna, had taught English, history, and mathematics in the preparatory department from 1880 to 1883. Miss Holman was followed by another woman faculty member, Julia Alice Druley, who began a long career as a teacher of piano in 1882.


Back to Top