Born in Sturgeon Bay, Wis. of Norwegian immigrant parents, Hiram L. Jome spoke fluent Norwegian, which he taught along with the English language at parochial schools during summer vacations as a college student. During World War I he served in the U.S. Navy as a ship's radio operator and graduated from St. Olaf College in 1918. He later earned M.A. and Ph.D. degrees from the University of Wisconsin and taught there and at Denison University before coming to DePauw in 1931 to head the department of economics.
He soon became one of the most popular teachers at the university, known especially for his ability to use concrete illustrations to make abstract theory come alive. He explained profit margin by describing trying to sleep on an army cot under a blanket lacking two inches from reaching the edge of the bed. Often covered with chalk dust from his lavish markings on the blackboard, Jome illustrated the primitive "barndoor" sort of bookkeeping by writing on the classroom door. "His graphs explode beyond the confines of the blackboard," one former student wrote.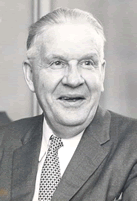 A kind and considerate teacher, much sought after by students for advice and guidance on career planning, he was also an inspirational chapel speaker and a productive scholar. He wrote over 30 magazine articles and several books on subjects ranging from the radio broadcasting industry to the Securities and Exchange Commission. An avid home gardener, music lover, and baseball fan, Jome was a sometime catcher on the Greencastle Kiwanis nine and occasionally played the violin, or fiddle, as he called it. In April 1958 he suffered a stroke in his classroom in Asbury Hall and died the next day. He was survived by his wife Martha Fjelde Jome and two daughters, Helen Jome Houck '43 and Florence Jome Donner'44. His death came just as the department was sending out a letter to economics graduates seeking contributions to purchase a special collection of books to be placed in the library in Jome's name. Ironically, the letter began: "The world is full of memorials to great men. Unfortunately, in too many cases, recognition was tardy and those honored could not enjoy the goodwill expressed toward them."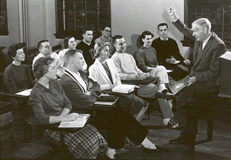 A view across the pond with fountains in Bowman Park at the Performing Arts Center.
Bowman Park on the site of Bowman Gymnasium has become a favorite hangout for students, who gather around the fountain in warm weather.