Adding luster to DePauw's reputation in the sciences were two outstanding teacher-scholars, Truman G. Yuncker and Winona H. Welch. Yuncker, a native of Carson City, Mich., who received his B.S. from Michigan State and A.M. at the University of Nebraska, taught briefly at Manual High School in Indianapolis before serving with the Army Medical Corps in World War 1. After obtaining his Ph.D. from the University of Illinois he joined the DePauw faculty in 1919 and served as head of the botany and bacteriology department from its establishment in the 1920s until his retirement in 1956. During his long tenure at DePauw, Yuncker pursued his study of plant life in Europe, Central and South America, and such exotic places as the Tonga Islands in the South Pacific, often taking along student assistants from his college classes. He became the world's leading authority on the herb Piperaceae and published his monumental work, The Piperaceae of Northern South America, in 1950.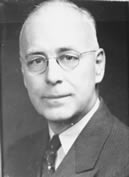 The only DePauw faculty member to this date to receive a Guggenheim fellowship, Yuncker was widely recognized for his scientific work. He served as president of both the Indiana Academy of Science and the American Society of Plant Taxonomists, and vice president and treasurer of the Botanical Society of America, which named him one of the country's outstanding botanical scientists in 1962. He died in Greencastle in 1964, survived by his wife Ethel and two daughters, Betty Jane Lee '42 and Barbara Yuncker '43.

Winona H. Welch, born on a farm in Goodland, Ind., enrolled in DePauw in 1919. A prize student of Yuncker, she graduated in 1923 and went on for advanced study in botany, receiving the M.S. from the University of Illinois and Ph.D. from Indiana University. After teaching at Indiana and the Central Normal School in Danville, Ind., she returned to her alma mater as an instructor in botany in 1930. Like Yuncker, she was an assiduous researcher and plant collector, concentrating most of her work on the water mosses fontinalaceae. She examined more than 15,000 collections of mosses in the United States and abroad and gathered over 39,000 specimens on her travels in Central America and the Caribbean, Alaska, Australia, and the South Pacific. Two of her major published works were Mosses of Indiana and A Monograph of Fontinalaceae.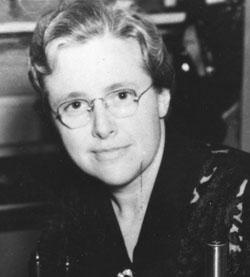 __________________________
Winona Welch, 1930-61
______________________________


Professor Welch followed Yuncker as head of the botany and bacteriology department in 1956, becoming the first woman to hold such a position in the sciences at DePauw. She also was the first woman to be elected president of the Indiana Academy of Science and to chair the Central States Section of the Botanical Society of America. Active in Phi Beta Kappa and such organizations as the American Association of University Women, Daughters of the American Revolution, and the national sorority PEO, she was given a special citation by the General Federation of Women's Clubs. She continued to teach part-time after retirement and served as curator of the Truman G. Yuncker Herbarium to which she and her mentor had contributed so many specimens.

Still active at the age of 91, Winona Welch was recently asked why she took up the study of mosses. "Because I felt sorry for them," she replied. "You could ask questions about trees or flowers and get answers, but not about mosses." Thanks to her work, today there are many answers to questions about the world's mosses.

Professors Yuncker and Welch trained scores of professional botanists during their teaching careers at DePauw. Two who later became their colleagues in the botany and bacteriology department were Howard R. Youse '37, who succeeded to the headship upon Welch's retirement in 1961, and Robert 1. Fletcher'51, who taught bacteriology from 1957 to 1983.

Back to Top