Pages:<< Back 1 2 3 4 5 6 Next >>
Appendixes: Appendix A, Appendix B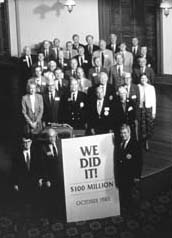 _____________________________________________
On Old Gold Weekend in 1985 the DePauw trustees announced that
more than $00 million had been committed to the Sesquicentennial
Campaign. Those pictured are : R. G. Bottoms, E.L. Delves., J. J. Kelly,
S.B. Jones, W. F. Welch, N. B. Stephens, R. R. Frederick, J. Brady, D. R. Daseke, A. J. Paine, T. H. Sams, A. E. Klauser, C. N. Frees, G. R. Ensing,
E. C. Boxwell, E. E. Schulze, I. M. Rolland, J. K. Guild, E. S. Pulliam,
R. H. Heyde, C. L. Grannon, N. J. Knights, J. W. Emison, G. A. Gelzinnis,
J. J. Dwyer, J. W. Pearson, L. C. Hodapp, S. B. Phillips, V. V. Bjork, T. A. Sargent, J. T. Anderson, R. D. Wood, R. E. Hamilton
__________________________________________________
A major move was the appointment of three-time Olympic gold medalist Wilma Rudolph as director of women's track and consultant to the president on minority affairs. Bottoms also named Dorothy Brown, a Greencastle native who had been the first black teacher and administrator in the local public schools before becoming principal of an Indianapolis elementary school and eventually an instructor in DePauw's education department, to the post of assistant dean of students for minority affairs. Blacks were also appointed to positions in admissions, the library, the office of personnel, and campus security.

Two top administrative posts went to women for the first time. In July 1986 Maria Falco, formerly academic dean and professor of political science at Loyola University in New Orleans, came to DePauw as vice president for academic affairs. In April of the next year DePauw alumna Barbara E. Smith left an executive career in advertising to accept the post of vice president for external affairs, with responsibilities for development, alumni affairs, and public relations. The history department's Barbara Steinson was also appointed assistant to the president on a part-time basis.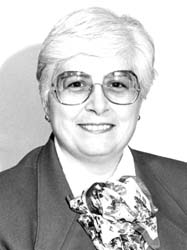 __________________________________
Maria J. Falco, academic vice president
_______________________________________

When Falco was granted a special leave of absence to complete a research and writing project, Vice President for Finance Fred Silander assumed the added duties of acting academic vice president for 1987-88. John White of the philosophy and religion department, who had been assistant vice president for academic affairs, was promoted to the position of associate dean of the university.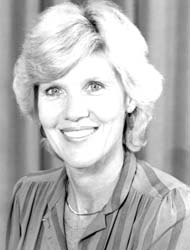 ______________________________________
Barbara E. Smith, vice president of external affairs
___________________________________________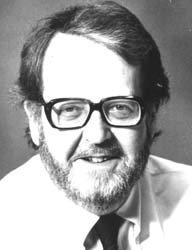 ____________________________
Drake Mabry, director of the Center for
Contemporary Media
______________________________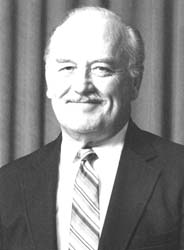 ________________________________
Fred S. Silander, vice president for finance
_____________________________________

The sesquicentennial year was not only a time for reflection upon the long historical record and proud tradition of Indiana Asbury-DePauw University, but also a time for thinking seriously about the institution's present and future direction. Over the past century and a half the university has undergone many significant changes, though perhaps none so dramatic as the transformation of Indiana Asbury into the new DePauw University in 1884. In recent decades, however the pace of change has accelerated, as the university trustees, administration, and faculty have endeavored to respond to changing conditions and meet new challenges creatively and wisely.

Like many other contemporary institutions, DePauw University has become a more complex organization than the 19th and early 20th century university, with some of the same characteristics as the modern corporation. During this time the administration and support staff, for example, have experienced unprecedented growth, while the teaching faculty, freed from much routine housekeeping detail, has become even more independent and professionally oriented. The student body itself has gained appreciable social and personal autonomy as well as a larger share in the whole educational process.

At the same time DePauw's alumni have come to play a more extensive part in university affairs, through representation on the board of trustees and the newly instituted advisory board of visitors and by virtue of their loyal support, both moral and financial. Finally, the. board of trustees has gained in stature as the guardian and sustainer of an educational enterprise which has grown, with the assistance of generous benefactors, to encompass a total endowment of more than $90 million and an annual budget in excess of $26 million.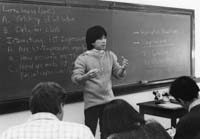 ____________________________________
Donald Ryujin lectures a psychology class.
_________________________________________


Moreover, DePauw University has been able to conserve its essential spirit throughout all the changes of the past century and a half. Remaining true to its original charter, which stated that the university was to be "forever conducted on the most liberal principles, accessible to all religious denominations, and designed for the benefit of our citizens in general," DePauw has grown in service to the nation and the world while striving to maintain a renewed sense of academic community. The university, having met and overcome various crises and found successful solutions to most of the problems facing institutions of higher education in the past, may look forward confidently to a future of continuing conservation and transformation.
Back to Top

Pages:<< Back 1 2 3 4 5 6 Next >>
Appendixes: Appendix A, Appendix B